The star product that is the Ab Coaster CS3000 has been fully redesigned for the most intense, complete abdominal exercises ever seen.
THE IMPROVEMENTS INCLUDE: Welded steel replacing the plastic caps, adjustable arm supports for easy maintenance, handles with a strong, adherent polymer, a light seat for easy movement, and stainless steel rails designed for smooth, silent movements.
AbCoaster CS3000 features
Made from maximum resistance steel
6cm thick stainless steel rails
Nylon rollers for smooth sliding
Moulded urethane foam pads
Resistant polymer grips
Swivel seat
User weight: up to 204 kilos.
Up to 18 kilos added weight.
Wheels for easy movement
Extended guarantee
Quick and easy installation
Size and weight
1.55 x 0.83 x 1.47 – Weight: 68 kilos
AbCoaster CS3000 video demonstrations
Purchase the Ab Coaster
To purchase the Ab Coaster, contact Tech Best Fitness, where you will be advised by our specialised personnel on the features of this specific product for achieving maximum intensity in abdominal exercises, made with high quality materials due to their resistance, and with ease of movement with stainless steel rails, as well as arm supports which provide better grip, and strong, adherent polymer handles.
When you purchase the Ab Coaster you can be sure that you have chosen a high performance, very compact machine with wheels to move it easily, which will help you exercise in the easiest, safest way, as it allows the correct position of the body due to its ergonomic design. You will surely be motivated by the excellent results achieved with it for constant, quality training, and you will notice that your abdomen is increasingly developed and strong.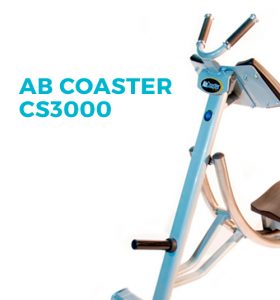 Consult our experts to purchase the Ab Coaster and get the best results in your training
In addition to bodybuilding machines for the home, at Tech Best Fitness we also offer our products for gyms, hotels, corporations and any space intended for indoor exercise, with equipment which combine specific designs with the latest innovations in technology, offering excellent value for money with the Expresso exercise bike, which incorporates a large touch screen which allows each user to choose between a wide variety of types of sessions in different environments recreated with great realism, thereby achieving a very motivating gaming effect. Monitors can also create their own sessions for their students and all information on each class or session carried out by the user is recorded so that it can be consulted, and their evolution seen on any Expresso exercise bike, or on the app.